#WRITING
Interview — Der Tagesspiegel
November, 2019 ︎
Erkan, immer mehr neue Orte und Formate wie das anti-cafe be'kech und das von dir mitorganisierte "Noon Festival"zum Ramadan legen den Fokus auf das nicht-weiße, nicht-heterosexuelle Berlin. Wie hat sich die muslimische und migrantische queere Szene in den letzten Jahren verändert?


Ich glaube die wichtigere Frage ist: Was ist eine Szene und wer darf für sie sprechen? Ich bin seit letztem Jahr hier und versuche mit der Hilfe von Künstler*innen, Aktivist*innen und Organisationen meine Archivarbeit zur queeren türkischsprachigen Berliner Community vorzustellen. Ich und viele andere, die neu in der Stadt sind, haben schnell die Aufmerksamkeit des Mainstreams gewonnen. Dabei gibt es viele queere Muslim*innen und People of Colour, die in Berlin aufgewachsen oder schon ewig hier sind. Aber unsere Identitäten sind für ein weißes Heteropublikum leichter verdaulich. Jahrzehnte vor be'kech oder dem Noon Festival haben sich hunderte Personen, Kollektive, Orte, Projekte und Initiativen queeren Muslim*innen und People of Colour gewidmet: GLADT e.V. gibt es schon seit 1999! Aber inzwischen findet auch der Mainstream zunehmend Gefallen an uns. Queere People of Colour fordern zwar täglich die Zuschreibungen heraus, die ihnen weiße und heterosexuelle Narrative aufzwingen. Besonders queere muslimische Identitäten laufen aber dennoch Gefahr, missbraucht zu werden. Die "Flüchtlingskrise" hat in Deutschland und vielen anderen Ländern zu einer Verklärung westasiatischer, nordafrikanischer und muslimischer Identität geführt: Fetischisierung, Tokenism, Ausbeutung und kulturelle Aneignung sind Riesenprobleme, mit denen sich sowohl die queere Community als auch der Berliner Mainstream unbedingt auseinandersetzen müssen.


Wie könnte sich denn die größtenteils weiße Berliner Queer- und Homoszene im Kampf gegen Rassismus, Islamfeindlichkeit oder Fetischisierung mit Betroffenen solidarisieren?


Ich bin eine queere muslimische Person, ich bin arabisch, türkisch und genderqueer. Und trotzdem bin ich in London geboren und hatte daher Privilegien, die andere in meiner Community nicht haben. Solidarität versuche ich erstmal selber zu praktizieren, indem ich mich kritisch mit meiner eigenen Position auseinandersetze und mich frage, wie ich Menschen unterstützen kann, die nicht denselben Zugang haben. Solidarität ist ein Lernprozess und Solidarität ist messy. Wenn dich jemand kritisiert, ist es wichtig, deine persönlichen Absichten erst einmal beiseite zu lassen und dich auf die politische und gesellschaftliche Dimension zu konzentrieren. Das gilt auch für mich.


Was stört dich in der Szene?


Es gibt nichts, dass uns queeren Araber*innen mehr das Gefühl gibt, fremd zu sein, als "Arab Chasing". Das ist, wenn Menschen an Orten für queere Personen mit westasiatischem und nordafrikanischem Background auf sexuelle und kulturelle Safari gehen. Wir sind nicht für euren orientalistischen Blick da! Wir sind hier, um uns sicher und aufgehoben zu fühlen. Wenn das Fotografieren verboten ist, respektiert das! Und schließlich: bezahlt uns einfach für unsere Zeit! Und zwar angemessen.
Woran arbeitest du gerade?


Am meisten begeistert mich gerade die "Queer Arab Barty": ein vielfältiges Kollektiv, das den Mitgliedern unserer Community einen sicheren Ort für das Experimentieren mit Identität bietet. Bei der "Barty"-Reihe lassen wir unseren inneren Diven zu den Klängen von arabischem 80er-, 90er-, und 00er-Jahre-Pop, Dance und Kabarett freien Lauf. Unsere Workshops und Diskussionen reagieren auf die mangelnde Sichtbarkeit unserer Community in queeren und nicht-queeren Räumen. Schau dir unsere Arbeit auf Facebook und Instagram an, wir haben große Pläne für das nächste Jahr!
English:


Recently, spaces and formats like Be'kech, "Noon Festival" or "Kuir" have focused on non-white, non-heterosexual Berlin narratives. What does the queer Muslim and of colour Berlin scene look like these days and how has it changed in the past couple of years?

I think there are more pressing questions underneath this one that need to be asked, what is a scene and who is able to speak on behalf of one? I am new to Berlin, introducing myself to the city with my academic archiving of the queer, Turkish-speaking community with the help of local artists, activists and organisations in mid-2018. There are many people who are queer, Muslim and/or of colour that were raised in Berlin or who came here a long time ago and have been organising for decades within various communities. There are also many newcomers such as me that get attention/spotlight from the mainstream as we begin to start our processes of organising. This is not coincidental, but rather because our politics are more palatable and digestible to straight, white audiences. Way before be'kech and Noon Festival, there have been hundreds of individuals, collectives, spaces, projects and movements in Berlin that have focused on queer Muslim & queer of colour identities in the city; GLADT e.V. for example has existed since 1999. So, this is not a question about how it has recently surfaced or how much it has changed, but more about who chooses to put a spotlight on certain people and determine their visibility.
That being said, there is a growing trend to draw attention in the mainstream to being queer, of colour, and on being Muslim too. Queer people of colour are out here daily challenging the binaries of belonging and identity that white, heterosexual narratives have enforced unto us. Queer people of colour have been doing this throughout history, and advancements in digital autonomy have made it impossible for mainstream society to just sweep us under the rug. I think that particularly with Muslim queer identity however, this can be interpreted quite maliciously… there is an infatuation with West Asian, North African and Muslim identity that comes from the delirium of a heavily racialised 'refugee crisis' that Germany and many other European countries have subscribed to … fetishization, tokenism, exploitation and appropriation, these are serious issues at the moment in Berlin that require drastic levels of confrontation in the mainstream and in the queer community.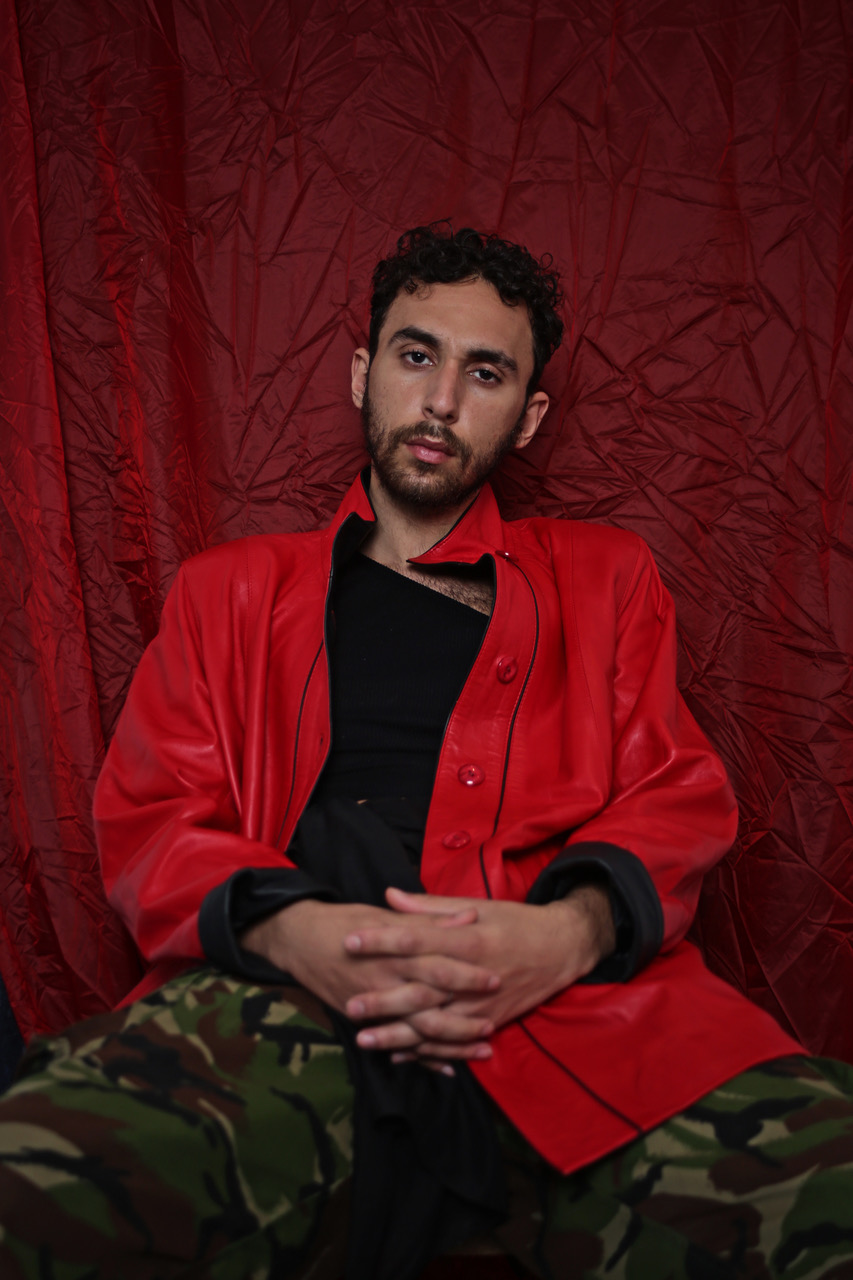 Image taken by Leviticus HindsWhere is it that Berlin can learn from London and vice versa?


I was born and raised in London, and I love my city very much. But I also watch it change every day. Within weeks, a venue shuts down and in its place opens up a co-working space below a cheaply built luxury housing complex. There are many who fight against how this erases structurally disadvantaged communities, especially working class, queer and of colour spaces and places. That withstanding, London still needs tighter surveillance within our communities on the venues that we work with. Some have good intentions, but some are merely trying to appear as progressive or 'cool' by having queer parties/events for their own economic gain. Collectives like 'Friends of the Joiners Arms' are examples of movements that are trying to stop this queer, cultural erasure, but there needs to be more protectiveness about physical space – something that Berlin excels at in comparison.

On the other hand, Berlin has a lot to gain from London in terms of its lack of consistent stages for marginalised communities within its protected physical spaces. There are so many individuals/collectives that have the right to consistent and safe platforms in Berlin; not just collaborations or temporary events but autonomous, consistent spaces to speak in and to be empowered by…. Summits, conferences, festivals happen across the city but there are very few, consistent physical spaces in which you will really *feel* safe in Berlin – Südblock is definitely one of them. So-called queer spaces in Berlin regularly exclude non-white, non-cis and working-class members of our communities, and I think that the majority of cis-heterosexual and cis-homosexual white residents of Berlin are wilfully naïve. They think that the door policies of venues are merely imposing crowd control on 'uncool tourists and heterosexuals', not taking into consideration that the gatekeeping of most of these venues is violently enforced against disadvantaged people in queer communities. The sheer number of accounts about racism, transphobia, Islamophobia, (trans)misogyny, ableism and classism by door staff at Berlin clubs alone is shocking. This needs to change.

How do you perceive the role of the mostly white and cis Berlin queer and gay community in tackling racism and Islamophobia, fetishisation and other forms of othering? In that regard, how do you envision solidarity?


Like the first question, this invokes something deeper for me personally. I am a queer Muslim, I am Arabic, Turkish and I am also gender non-conforming. That withstanding, I was born in London so there's a level of entitlement and access that I have that others in my community do not. So, solidarity is something that I also envision for myself, learning to check my positionality and the capacity I'm willing to give to others that don't have the same access. This is a learning process, and it is not always a linear path. I think the first step is to reflect constantly on your own behavior, and when someone criticizes your actions, learn to push the personal intentions to the side and focus on the political and social undertones. Trust me, we're doing you a favour.

I think that on a grander scale, I can speak on behalf of what our work as Queer Arab Barty does to challenge racism and what we expect from the white queer community in Berlin. There is nothing that makes us as queer Arabs feel like the 'Other' more than 'Arab Chasing'. If you're not familiar with this, it is basically the practice of attending spaces and places that are created by and for queer people with West Asian and North African backgrounds as a sexual and cultural safari. We're not here dancing or dressing for your Orientalized gaze of us. We are here to feel safe and to feel comfortable. If there is a no-photo policy on the door, RESPECT IT. You have no idea about the danger you could be putting someone in the frame of that photo in.

Finally, and very simply, pay us for our time. And pay us well.

Can you give a glimpse at your current and future projects?


The work I'm most excited about at the moment is that with Queer Arab Barty – a multifaceted collective offering safer spaces for members of our community to explore our identities, independent from the mainstream attempt to homogenise Arabs. Our 'Barty' series provides an opportunity to celebrate and release our inner divas to the tunes of 80s/90s/00s Arabic pop/dance/cabaret. Our 'Workshops' and 'Discussions' series are a response to the lack of representation for members of our community within both queer and non-queer spaces; a response to the entrenched stereotypes that prevent the inclusion of queer Arabs in Berlin and German society at large. Through Queer Arab Barty, we emphasise on the importance of solidarity for those who cannot or do not want to be visible in public spaces; for our siblings/comrades back home whom for the most part are unable to embody their identities freely; for our allies, accomplices and friends; and for everyone in between. You can check out our work on the Facebook page here and follow our Instagram here, we've got big things planned for 2020!